Time for a Book Review Authored By Two Hockey Greats
Patrick Hoffman
If you're a hockey fan who watches YouTube regularly, lives in Canada, or just loves the game and all things puck, then you have probably heard/seen two guys who are trying to show everyone that hockey is fun, especially if people play the game the way these guys tell them to.
In fact, both of these avid hockey players have a lot of experience in the game and are essentially experts when it comes to our favorite sport. Their unique styles of play will make us all better hockey players if we listen to, watch, and read everything they have to tell us.
If you do not know who I am talking about, then you are seriously missing out on unbelievable hockey content. These gentlemen are Ollie Postanin and Jacob Ardown from On the Bench.
I'm not sure how this is even possible, but they went ahead and wrote their own hockey book about some of the things I wrote above. The title of this book perfectly represents what they are all about - The Fundies: The Essential Hockey Guide from On The Bench.
No, folks, I am not kidding. Due out on October 22, this unbelievably hilarious book on all things puck has the guys teaching us their own hockey lingo, certain skills that need to be perfected in order to make it as a hockey player, as well as how they teach NHLers the right way to play the game the right way.
To make things easier for everyone, they've even included pictures so that you know what to do once you hit the ice or roller rink. If the book didn't include these pictures, than how would we be able to replicate the way they play the game?
You'll also learn about the history of hockey. How the game started, the teams involved, how the game was played, and how it has evolved into what it is today - the Ollie and Jacob way.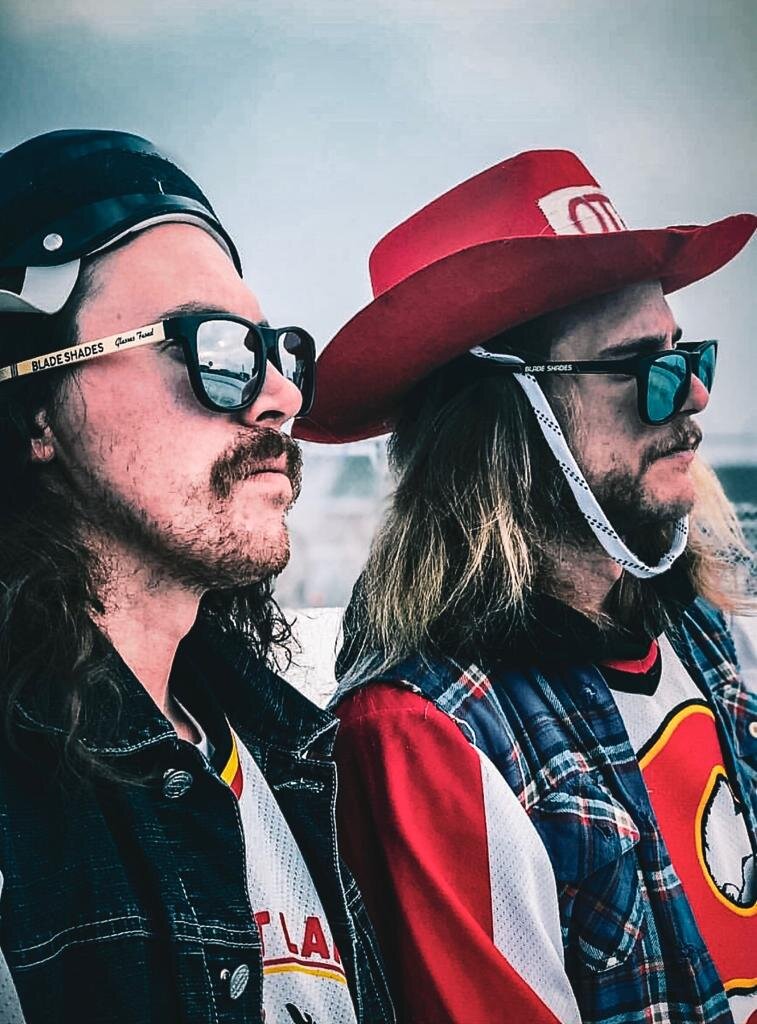 Own a Pair of Blade Shades Like On The Bench
Hockey stick sunglasses for hockey legends.
If this book still doesn't have you intrigued or making you want to jump off the bench and play some puck, check out some of these absolutely glowing reviews from prominent people in and around the hockey world:

- Ryan O' Reilly of the St. Louis Blues: "Weapons!"

- Jack Hughes, #1 overall pick in the 2019 Entry Draft by the New Jersey Devils: "Being the #1 Draft Pick this year was awesome—but getting pointers from Olly and Jacob was even cooler ….hope their coaching doesn't get me kicked out of the league!"

- Jeremy Roenick of many NHL teams and now an NHL analyst: "I was able to teach these rookies a few tricks, but they're still a long way from a career in the NHL—in fact I'm not sure I'd even let them off the bench, but I applaud their passion."

- Rick Blackshaw, CEO, CCM Hockey: "As a premiere performance hockey brand, CCM prides itself on its R&D team with some of the best players in the world—McDavid, Crosby, Ovechkin, Price. Olly and Jacob are definitely not on our R&D team, and we'd rather they not use our stuff, even if they aren't making it off the bench. It's just not a good look."
In all seriousness, a big part of what I enjoyed about this book is that they make hockey look fun for everyone. These boys don't take themselves too seriously and do everything they possibly can to show that hockey is one of the best sports to play, whether you're great, terrible, or just starting out.
Do yourselves a favor a make sure to pre-order this book or just buy it in general once it hits the shelves in October. I promise you that you will be one of the greatest players ever to play the game once you're through with it.
It's a Fundie, folks!
Patrick covers the NHL for The Ultimate Hockey Fan Cave.
He has previously covered the league for WTP Sports, Sportsnet.ca, Kukla's Korner, Spector's Hockey, NHL Network Radio blog, TheHockeyNews.com, The Fourth Period, Stan Fischler's "The Fischler Report", as well as a slew of others.
For comments and hip checks, feel free to contact Patrick at patrickhoffman3530@gmail.com or on Twitter