An Email Interview with Hockey Influencer Andrew Telfer, aka "Nasher"
By Patrick Hoffman
What I love about hockey people is that they go all out when it comes to their favorite sport whether it's watching, playing, video gaming, going to a game, etc.
One person who does all of these things and more is Andrew Telfer. If that name does not sound familiar, then maybe you know him as the one of the top hockey influencers, @TheNasher61.
Andrew was kind enough to take time out of his busy schedule to tell us about how he got into hockey, how he got into playing hockey, how he became an unbelievably avid hockey video gamer, and how he created a YouTube channel that showcases his love for all things puck.
I hope you folks enjoy this because it was awesome to conduct this email interview with someone who loves hockey as much as I do.
PH: Growing up, how did you get into hockey?
AT: Lucky for me, my parents got me into hockey at a very young age. I remember playing knee hockey with my grandpa in the basement when I was 3-years- old.
PH: Who is your favorite team (s) and player (s)?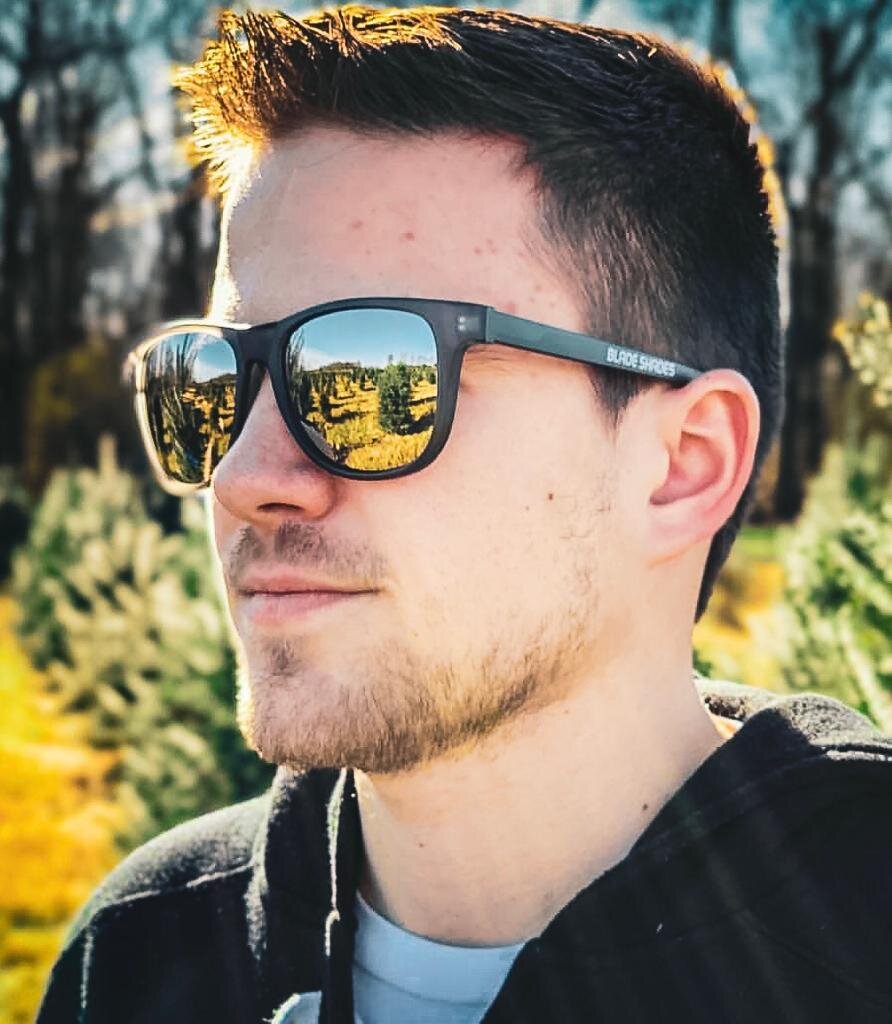 The Nasher Rocking Blade Shades
Get a Blackeye like the Nasher | Hockey stick sunglasses.
AT: Been a Blue Jackets fan since day one. I went to the inaugural game with my dad, had season tickets growing up, and have been there through the ups-and-downs.

Over the last year, I've gotten to meet Zach Werenski and Pierre Luc Dubois, both really nice guys who love gaming...and are unreal at hockey.
PH: How did you get into playing hockey video games?
AT: Hockey video games started when I was a kid as well. I remember having NHL 98 on PS1 (I was born in 94) so I was playing very early.
Honestly, most of my childhood was 24/7 hockey. We'd come home from school, play street hockey until it was dark, head home and hop on chel afterwards...maybe some homework in the mix there as well :)
PH: What inspired you to start your own YouTube channel that showed yourself playing EA Sports' NHL series?
AT: When I started making YouTube videos, there were only a handful of people making NHL Gaming content. At the time, gaming content was really starting to take-off in popularity (call of duty, halo, etc.), but no one was really focused on sports games.
Since I was playing a couple hours of NHL a day, I figured I might as well record everything and see what I could put together from it. My goal since the beginning has been to grow the sport that I love, and gaming is something that so many people can relate to.
PH: At what point did you start to think that you could make a living doing that?
AT: I had never had a desire to make money/a living off of YouTube when I started. My channel made a total of $0 for the first couple years that I made videos as it just wasn't a thing back then.
I loved every part of making videos, from recording to editing. It became something that I did for fun after school. When monetization became an option, I never changed my mindset. As long as I was having fun and making at least one person's day, it was all worth it.
When my videos started to become more popular and YouTube introduced monetization, nothing changed. But after graduating college and getting a full-time job, I started to realize how much I'd rather be making content. I spent many hours at work just thinking of new YouTube videos and how I would find the time to make them.
That's about the time I realized that I should probably take a leap and try it out full-time.
PH: Besides playing hockey video games, you're a big time ice/roller hockey player and make awesome videos doing those things. How did you decide to make videos doing these things?
AT: I wanted to show people that have never played hockey what our game is all about. Growing up, everyone has played basketball, baseball, soccer, etc., but so many people don't know what it looks like to toss on the skates.
By wearing a GoPro when I play, I could show the world what an amazing sport hockey is. It's crazy the amount of messages that I've received of people in their 20's deciding to join a beer league after seeing my videos. That's what it's all about.
PH: It was recently announced that you and Bauer have a partnership together. How did this come about and what does it entail?
AT: I had the chance to attend the Bauer Combine over the summer where Bauer flew out some of the NHL's upcoming stars and social influencers. I had the chance to meet some of the guys there and saw that their mission was the same as mine.
Truthfully, I've been using Bauer gear my whole life so to be able to partner with them is a dream come true. They're supporting every different way there is to play hockey, from roller to video games.
With this partnership, I'll be able to represent the Bauer brand as an official Bauer Athlete, work with some of the top players in the world, and review Bauer gear as it comes out. The opportunities are endless. ]
PH: What do you see yourself doing in the future when it comes to playing hockey videos, playing hockey in general, and making content?
AT: In the near future, I'm excited to take my content to the next level. We're looking into hosting chel tournaments, making more videos with NHL players, and more!
In the distant future, I'd love to open up an indoor roller hockey rink in the Columbus area. We used to have one that was torn down a few years back and have been looking for a replacement ever since. Roller hockey was a huge reason that I found my love for the game and I know it's a a great cost-effective way for the youth to get into it as well.
Patrick covers the NHL for The Ultimate Hockey Fan Cave.
He has previously covered the league for WTP Sports, Sportsnet.ca, Kukla's Korner, Spector's Hockey, NHL Network Radio blog, TheHockeyNews.com, The Fourth Period, Stan Fischler's "The Fischler Report", as well as a slew of others.
For comments and hip checks, feel free to contact Patrick at patrickhoffman3530@gmail.com or on Twitter at @pathoffman35.