An E-mail Interview with the Barstool Sports Islanders' Blogger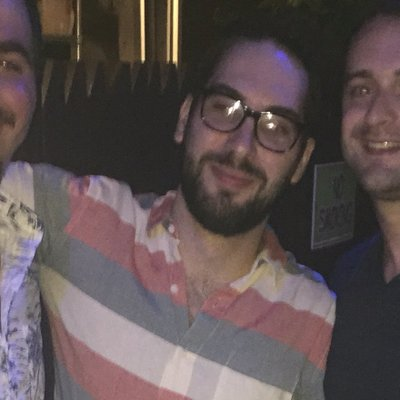 New York Islanders' Blogger: Connor
"Growing up on Long Island, hockey was all around me"
I have once again gone ahead and conducted an e-mail interview with a Barstool Sports blogger.

This time I conducted one with their New York Islanders blogger, Connor. Connor was kind enough to take some time out of his busy schedule to tell us about how he got into hockey, how he began following the Islanders, and what it is like to be involved with Barstool.
I hope you folks enjoy this as much as I enjoyed conducting it!

PH: Growing up, how did you get into hockey?
Connor: Growing up on Long Island, hockey was all around me. Whether it was my family bringing me to games at a young age or my friends organizing pick up games, I easily found myself spending time around the game and quickly fostered an appreciation for its nuances and story lines. My first ever Islanders game I went to, the Sharks spanked them to the tune of 5 or 6-0… so I knew what I was getting into right from the get go.

PH: Who is your favorite team/player?
Connor: I am and always will be an Islander fan. Now I'm not going to sit here and say I'm the most die hard fan, going to 39 of 41 home games a year, but if there's something in my life I find pleasure in, I immerse myself in it to the fullest. This team and it's amazing fan base being one of those many things.

PH: Considering The Ultimate Hockey Fan Cave is filled with tons and tons of hockey memorabilia, what is your favorite piece of hockey memorabilia that you own?
Connor: Oh man, I'm not the biggest memorabilia guy in the world but I do have a signed photo of Bossy raising the cup. He had done a signing at a Pep Boys Grand opening near where I grew up so I of course had to go and meet the guy. I'll remember that day forever. The Ruby Tuesdays next door had brought food over for the signing and only a handful of people had shown up so we got to share chain restaurant Swedish Meatballs with one of the league's greatest goalscorers. Love the story. Love that photo.

PH: How did you get into covering hockey online?
Connor: It kind of just happened really. Like I said I've always been fascinated with hockey/the team/the story lines that come with following it all. I have been on Twitter for ages and would have friends yell at me for using it as a platform to rant about the team.
I started an Isles-centric account to get all my thoughts/jokes off without pissing off friends. When it started growing relatively soon thereafter, I thought I needed to take my thoughts to a blog so I started my own website. That was ages ago. Great times those were.

PH: How did you get a gig with Barstool Sports covering the New York Islanders?
Connor: I guess my blog/twitter following had caught the eyes of KFC and he and I started having some conversations back and forth just talking hockey and whatnot on Twitter. One day I decided I wanted to take my blogging to a larger scale and I decided to email him trying to convince him he needed a good/funny Isles writer and he agreed. Best email I've ever sent.

PH: What is it like writing for Barstool? It seems to continue to grow and grow, which I think is great for the sports media industry as a whole.
Connor: It's been interesting. I'll be the first to tell you how small of a fish I am in the vast pond that is Barstool, but it's rewarding knowing such talented, intelligent, and most of all funny people co-sign your stuff.

It's tough trying to explain [and sometimes defend] just what Barstool is, but they're a great group of people who want nothing else but to entertain and make the Internet fun. I think we're doing a pretty good job so far.

PH: What are your thoughts on this year's Isles hockey club?
Connor: They're a god damn enigma, man. As elite as their top-6 is, their defense is unreliable. That on top of Greiss and Halak having a pretty rough go of it this year has made for some up and down weeks.
They're scoring a ton, letting in a ton, and driving me crazy in the process. Truly never a dull moment with this club, but they're on the up and up. This is the best roster I've ever seen them ice my whole life.

PH: What do you think of the news that the Islanders are returning to Long Island and will have a brand spanking new arena in Belmont?
Connor: Oh it's amazing. For once, I don't think it's news that is being over-hyped. Moving to Brooklyn was well received at the time, but even then it was the Islanders moving into someone else's arena.
This time around it's an arena purely for the Islanders. That's a whole different ballgame. This is their home.

PH: What do you think the new arena ultimately means for the franchise and its fans?
Connor: I think it means some relief. This fan base is always looking over their shoulder thanks to years of mismanagement. This is one thing off that list of possibilities. The team is coming back to Long Island and they're staying for a long, long time.

PH: Is there anything else you'd like to share with us puckheads?
Connor: In all honesty, please, please, don't be a dick on Twitter. Don't be that guy. No one likes that guy. Oh and like, subscribe, and follow the Obstructed Views podcast @OV_Pod. Gotta get that shameless plug in while I can.

Previously, Patrick has covered the NHL for Sportsnet.ca, Kukla's Korner, Spector's Hockey, About.com, NHL Network Radio blog, TheHockeyNews.com, The Fourth Period, Stan Fischler's "The Fischler Report", as well as a slew of others.
For comments and hip checks, feel free to contact Patrick at patrickhoffman3530@gmail.com or on Twitter at @pathoffman35.